| | |
| --- | --- |
| LAS VEGAS, SEPTEMBER 1995 - 'You have to go to Vegas once in a lifetime', some say. I agree, but once is enough. This city is just unbelievable, but is it really a city ? It seemed more like a theme park to me, but I must admit, I enjoyed being carried from the one astonishing fact to the other. We came out of the desert, a whole day driving without seeing anyone, then there was suddenly the Hoover dam, and when we arrived into Las Vegas, there were traffic jams ! A big contrast, and this was only the beginning. | |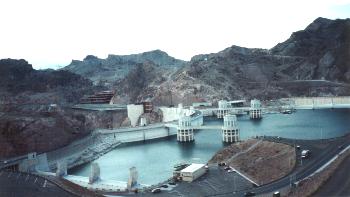 Gambling
'When in Vegas, don't sleep at night', another saying. I was determined to try it out. I went from casino to casino, did some gambling (what else would you do ?) and had some free drinks. It was all amazing, there were pyramids and a sphinx, there was Ceasars Palace, a vulcano, ... and everything was connected to everything - I often wondered if I would be able to find an exit somewhere... Afterwards, I've learnt that exits are on purpose 'as invisible as possible', people have to stay in and gamble. It is true that the city has some special attraction at night - neon rules over here. In fact an exiting atmosphere is created, and after a while it becomes hard to resist the slot machines or video poker or blackjack. The first night, I even won some money (the second, I lost it all very quickly). When it was nearly morning I decided to go to the hotel, but I got a bit lost (and had a last free drink too much). I took a cab and the hotel was somewhat further than I had imagined before. Next problem was I didn't remember my room number... now I was in trouble. Security didn't trust the situation, and I had a hard time explaining my friends were already there (and asleep) - finally I got into my room escorted by a security guard.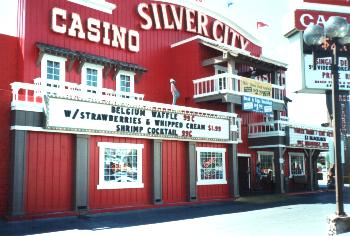 All you can eat
After sleeping in the day after, it was time to go for lunch. I took the free shuttle bus this time, to one of the many restaurants inside the casinos. I went to a place where there were circus artists performing while you were having lunch. The food was cheap and often on a 'as many as you can eat' basis. This has of course again the purpose of driving people into gambling; they can save on the food, so they have more money left for gambling.
Besides gambling, I have done some walking into some of the areas aside from the strip. I remember it was very hot (at least to me it was), and I was always happy to reach a casino, because I could drink something there and it was airconditioned. I guess the high temperatures over there are also 'on purpose'.
And the other stuff
I also went on a city tour in a real limousine, champaign included.
I didn't get married and I didn't skydive disguised as Elvis.