MT. FUJI, JULY 1998 - Fuji-san, the highest point of Japan, the holy mountain... This perfect conical vulcano is snow-capped during most of the year, and therefore hard to climb. However during July and August the mountain is open to everyone who wants to go up this 3776 metres of rock and ashes...
The day before we arrived in the railway station Shin-Fuji, coming from Tokyo. We had stayed in a little hotel, in which there stayed a lot of fellow Mt. Fuji-hikers. Early in the morning we took the bus to the 5th station on Mt. Fuji. This is as far as the bus will take you up the mountain. From this point, we began our hike up, under a cloud-filled sky. Today we would go up to the 7th station, just above 3000 metres, we would sleep there to continue to the top the next day. On the mountain there are 10 'stations' , these are mountain huts with basic, Japanese style, accomodation. There is no water on the mountain, except for the bottled water they sell everywhere along the way... of course the price is high because all of the goods have to be carried up the mountain.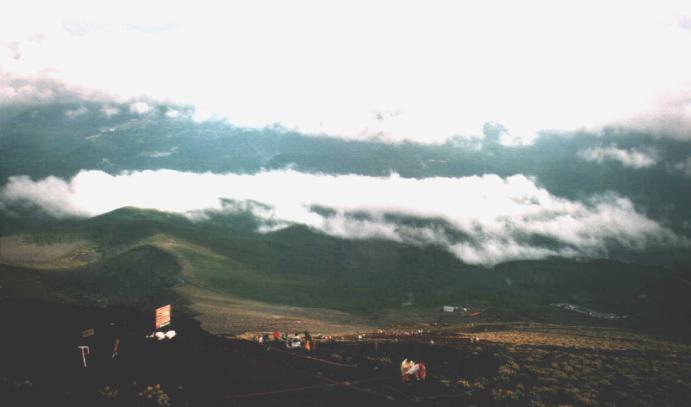 It took us a couple of hours to reach the '7th station'. If you want to sleep in one of the mountain huts, you have to make a reservation well in advance, since places are limited. However upon stating who we were, it was not clear to the 'staff' we had a reservation. We got a "maybe" as answer on this question. Later we found out this was the "old 7th station", so we probably must have a reservation for the "new 7th station", higher up the mountain. As we went further, the "new" 7th station already came in sight when suddenly a thunderstorm broke loose. Within minutes the otherwise till now easy walk became a harsh hike ! We could not see where to walk anymore (I luckily noticed some signs "do not pass - danger !" in time), we were soaked, the wind was fierce. And we were so close to the mountain hut ! We reached it a couple of minutes later, and wanted - as many others - go inside as quickly as possible. But that was not so easy. This mountain hut was a "Japanese style" one, had a tatami floor, and we were asked to remove our (very wet by now) walking boots and rain gear, before entering ! When inside, we could change our trousers and other wet clothing. They gave us some plastic bags to put our wet shoes and clothes in - a matter of keeping things tidy and clean. And indeed it was the most clean mountain hut I had ever seen, this could only be possible in Japan !
Inside the hut, we drank some tea and ate our evening meal. We met several other Japanese hikers that were very interested in our story : why we wanted to climb Mt. Fuji and where we came from... Around seven o'clock it was bedtime. The manager of the hut called everyone by name (with some difficulties to pronounce ours) and showed us our place in one of the four 'beds'. Along both sides of the long 'sleeping room', on two levels, there was room for about 50 persons side by side, men, women and children all together. Also in the room we had entered first, futon were now enrolled onto the tatami, so this space could be used too. When everyone had been shown it's place, there was virtually no space to move anymore. Only a small corridor was left to jump out of the wooden '50-person bed'.
Sleeping was not easy. That night around midnight there was another big storm, and one of the Japanese called me to come outside. The spectacle was unbelievable. It turned out we were above the clouds and seeing the lighting from there was something really different and I had never seen this before. It appeared as if the clouds were exploding. Above us there were many stars... it was as an 'unreal' experience.
| | |
| --- | --- |
| | A couple of hours later, around 2-3 AM, everyone started to get ready to hike again. The sky above us was full of stars, the tunderstorm had finished. The staff of the hut gave us our breakfast to take with us 'for later'. It was freezing cold. I luckily had enough spare clothes with me, with three layers of T-shirt, a fleece and a raincoat, woolen hat and not to forget gloves, I could stay warm. Another item not to forget was the flashlight of course ! There were many people on the mountain by now. Everyone wanted to be on top before sunrise. The last part of the hike was 'jammed' with people ! I reached the top only minutes before sunrise. It was a spectacular sight ! |
After sunrise, in full daylight now, we first ate our breakfast and rested for a while. On top of Mt. Fuji, there is a postoffice, a hut where you can buy drinks and food, and there even is a 'street ' with souvenir stalls and vending machines (!). We continued to make a circular walk around the crater. The sights were fantastic. The sun was shining and beneath us there were only clouds. In the distance only the highest mountain tops of the Japanese Alps were visible. Sunscreen and a cap were the items that were needed now !
An couple of hours later, it was time to go down again. We said goodbye to this beautiful mountain and headed down for the bus, the bullet train and Tokyo !
Japan Main Page The bullet train >>